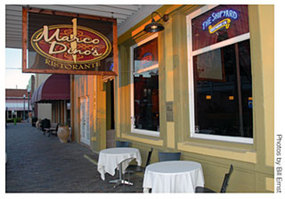 A new restaurant has opened recently in Sanford and, while the restaurant may be new, the quality Italian food will be quite familiar to many. After three years in business, Stone's Throw Bistro chef/proprietor Richard Lendino has reopened Stone's Throw Bistro as Marco Dino's Ristorante.
After a farewell event on December 31, 2011 the space underwent major interior renovations and reopened on January 19, 2012. Now Marco Dino's has a fresh new menu to match its new, brighter interior.
Although Stone's Throw had a strong following for the dishes being served, Lendino wanted to go back to his Italian culinary roots. He often honored his father's side of the family with many of their Italian-themed wine-pairing dinners. Richard Lendino explains that the new name is derived from his last name, "Dino," and the "Marco" portion is an homage to Howard Marks, the owner of the building, who "stepped in and helped out a lot with the renovations."
Lendino adds, "The food will be of the highest quality and use family recipes from my childhood."
The interior changes are significant since everything has been reupholstered and repainted throughout. The wood floors in the bar area have been refinished. Also in the bar area, Ab Ivens, a.k.a "Ab the Flagman," built a brand new red oak bar, handcrafted and featuring an engraved "sunburst" design on the front. A new draught beer system was installed and will feature microbrew and craft beers, including Cigar City from Tampa and Birra Moretti. Tall stools and tables were added to the bar area and the "godfather's table"—where bands used to play—is back. Saturdays will still feature live music. New all-day happy hour specials include select $5 appetizers, $3 house wines, $3 wells, $4 Pinnacle martinis and $3 select draught beers. A new banquette seat runs along the entire length of one wall in the main dining room. Along with new lighting and signage and new servers, the changes are noteworthy.
While Marco Dino's new bar area changes make it more conducive to a bar crowd, the menu and dining room renovations appeal to the family crowd. Also appealing to families are the new, lower price points that manage to maintain the quality. Pastas start at $10. Chicken dishes are $15 and both are served with soup or salad and bread. There isn't a separate kids' menu, but 90 percent of the menu opÂ_tions are available in children's portions. HomeÂ_made gelato in vanilla, chocÂ_olate or pistachio is included with the children's entrées for $7.
The menu is very Italian and features specials such as lamb with herb crust and garlic oil, pork osso bucco in Marsala sauce and filet mignon with a mushroom and herb jus. The large meatballs are another menu highlight. But what helps add to the authenticity is the sauce. 
Marco Dino's doesn't feature a traditional tomato sauce like most Italian restaurants. "Our sauce is a 'Sunday-style' sauce with the meat cooked in it to give it a rich flavor. It's very reminiscent of a traditional Sunday meal at Grandma's," states Lendino. "People from up north will be used to that type of sauce." A vegetarian marinara is also available.
Lendino explains the makeover by saying, "I want to be able to showcase my heritage. Sanford is a community where people are close. I want to build a family feeling by serving Italian food because, to me, Italian food and family are almost synonymous—tradition, family, comforting. We're serving good home-style Italian food, with a nice bar area, where everyone can get together and meet and feel like family."
Hours: Wed., Thurs., Sun., 11:00am-9:00pm. Fri.-Sat., 11:am-10:00:00pm. ReserÂ_vaÂ_tions sugÂ_gested.
S
Marco Dino's Ristorante, 107 Magnolia Ave., Sanford; 407.688.2508; marcodinos.com.